WELCOME TO PRINTOLIFE: PERSONALIZED PRODUCTS FOR EVERY OCCASION
On-line Templates for Instant Download and Custom Gifts for Family and Friends
PRINTOLIFE TESTIMONIALS
I keep coming back to Print of Life because she consistently exceeds expectations! She's been so helpful I designing my vision for signs. Always prompt communication and order completion. Quality, professional work!
Beautiful designs! The seller has great communication! Recieved my digital preview and the download followed very quickly after. The seller even emailed me different formats of the image for my use! Can't wait to see this printed on everything for the wedding!
We love our logo design! A huge thank you for the great service from start to finish :)
This sign looked amazing at my small wedding! I was glad that I could print it out quickly since my wedding plans had changed last minute. Everyone thought it was a real chalkboard. Thank you!
Beautiful invites! Easy to use online customization platform..I'm so excited to see these printed!
Awesome!! Thanks
Great item and easy to deal with.
Very elegant monogram, it was perfect for our wedding invites! Haydee was very accommodating to our requests and responded fast.
We loved it! Easy to work with template. It added a really great quality to our Welcome sign and was a good alternative to doing individually-printed programs.
This was so wonderful – I am beyond delighted of the process working with Haydee. And the quality of items is really top-notch!
I will be looking for ways to work with Haydee and Print to Life again! Thank you!
We were able to customize our bar sign. Easy to print and frame for everyone to see. We made multiple for our bar.
Haydee was amazing to work with! I had a few things I wanted to change and she did it so quickly!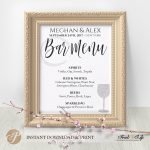 Looked great on the bars at our reception. Easy to use.
Ordered these a while ago but have only recently got them printed. The custom design was exactly what I wanted. Excellent communication and quick postage from seller! I also had our welcome wedding sign and menu sign customised similar to this design and also purchased some ready to print signs. Love your work! My fiancé was also very happy with them. Thank you very much.
Used the template at my father's 80th birthday celebration. Stunning!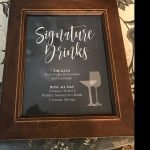 Easy to edit used it on the bar for my daughters I do barbecue
Perfect! Just what I wanted!! Speedy delivery too!!